Topps Polyprene
Universal Best Repair & Flashing Cement Contains No Bitumen!
Roofing materials expand and contract at different rates. That puts stress on seams and the areas around penetrations — vents, signs, flashings, pitch pockets, joints, and rooftop equipment. Heavily fibered Polyprene® won't crack when it gets cold. Stays pliable permanently. Topps® Polyprene stops annoying leaks from recurring
Polyprene, ready-to-use 100% rubber Roof Repair Cement, works with all roof types. It was voted the #1 repair compound among professional roofers. Available in two grades to apply easily in all situations, Polyprene cures to a solid, long lasting, watertight seal. The heavily fibered high solids content prevents mud cracking, making it ideal for pitch pans as well as to seal seams, cracks, around vibrating rooftop equipment, skylights, vents, flashings, and more. Wet surface adhesive agents allow repairs to damp metal for emergency needs.
Apply with a trowel or rubber glove. Cures to a tough rubber seal that is amazingly strong! Trowel Grade Polyprene is thicker, with enough "body" to fill gaps up to 1/4" without sagging. Heavy Brush Grade spreads quickly and easily around penetrations and seams, yet holds tight to seal out moisture.
Use either Polyprene grade with polyester reinforcing fabric for more critical or difficult to seal areas.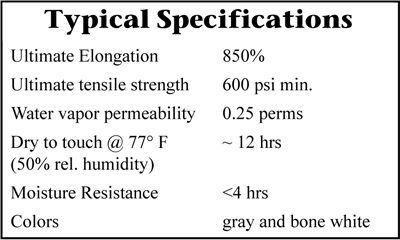 The Most Dependable Go-To Repair Product - permanent strength and flexibility!
Durable
The most long lasting and flexible cement!
Resilient
Tolerates constant vibrations and ALL climates.
Economical, Easy Application
Arrives premixed ready to use.
Joints and Gaps Become Watertight with Polyprene