Helios Skid Design Features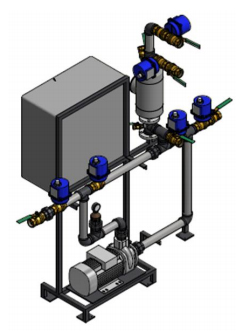 Manufactured to industry standards, including ASME Power, Process, & Building Services Piping Codes, as well as UL, NFPA, and NEC codes and standards.
Designed for simplicity, yielding industry-leading reliability.
Configurable for remote system monitoring.
Controller integrates easily with existing BAS or DCS control systems.
Multiple ball types for wide range of temperatures and process conditions.
Does not recycle outlet water to heat exchanger inlet, ensuring maximum heat transfer efficiency.
Helios Ball Trap Design Features
Multiple Ball Trap configurations and custom design available to minimize installation costs.
Ball Trap designed for low pressure drop
Ball Trap contains no moving parts—ensuring zero ball loss.
Wide range of sizes available for multiple industries: chilled water, power generation, petrochemical, and industrial applications.